Bath
---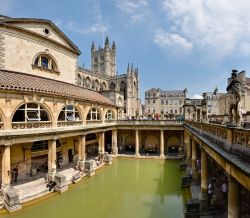 ---
Many significant stages of English history can be seen here in Bath. The infamous Roman Baths have been here in the city centre since the AD43. They were founded on hot springs flowing at 46 degrees celsius. Visit the Romans Baths and walk the cobled streets as the Romans would have done 2000 years ago. It is one of the best preserved Roman remains in the world.
There is an old old gothic Abbey in Bath too and this has had three churches standing on its place since 757AD. Wonderful examples of more recent architecture in Bath are the beautifully preserved Georgian buildings at the Royal Crescent and of course the Thermae Bath Spa where you have the chance to bathe in the thermal springs themselves.
There are also many Victorian parks around the city of Bath to stroll through and several river tours that run from here along the picturesque Avon valley.
Shoppers will like the boutiques in the Upper Town, sports enthusiasts can see a game of Rugby at Bath Rugby Club and spa lovers will be spoiled by the many relaxing retreats.
There's so much to inspire in this small city it's little wonder people such as Charles Dickens and Queen Victoria often passed by.
Passes covering Bath: BritRail Pass, BritRail England Pass, BritRail London Plus Pass and BritRail South West Pass
Buy BritRail With Confidence