Birmingham
---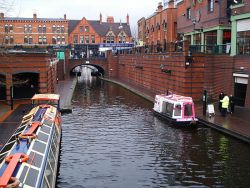 ---
Steeped in industrial history, circled by canals, ring roads and plenty of shopping, Britain's second largest city is a must see with its rich history of industrial revolution.
Canals
It is said that Birmingham has more canals than Venice, with over 15 miles of these vintage towpaths improved for safe and enjoyable walking.
Shoppers are in for a treat at The Bullring and food lovers are spoiled for choice with top dining at Michelin starred restaurants or even local delicacies in the Curry Mile. Chocolate enthusiasts can take a trip to Cadbury World just outside of Birmingham and try a sample too!
While in Birmingham, check what shows are on at the local theatres or at the National Exhibition Centre (NEC), the largest Exhibition Centre in Britain. With so much to do, come and enjoy what Birmingham has to offer.
Passes covering Birmingham: BritRail Pass and BritRail England Pass
Buy BritRail With Confidence