Brighton
---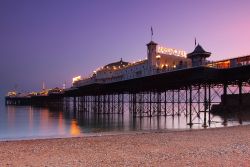 ---
White domed pavilions, pebble beaches and hilly downs are only a glimpse of Brighton's offerings.
If you are a pleasure seeker, on Brighton beachfront you can swim, sail and visit fairground attractions out at sea on the famous Victorian pier. For a more relaxed experience, head inland where you can walk or cycle the hills and cliff tops of the South Downs.
If movies are your thing, many have been made in Brighton, you can retrace the steps of these films, like walking The Lanes from Quadrophenia. From film to theatre, be sure to check out what's showing when you arrive, as Brighton hosts top stage shows performed in classic old style theatres. All part of the wonderful architecture of Brighton.
Passes covering Brighton: BritRail Pass, BritRail England Pass and BritRail London Plus Pass
Buy BritRail With Confidence