Cambridge
---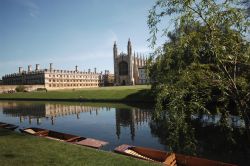 ---
Cambridge
is a world renowned city of education, with 31 colleges in its world famous university and many faculties dating back to the late gothic period.
Being a compact and sleepy city, why not take your time strolling the many historic buildings and lawns. A good way to get around the sights of Cambridge is to cycle the streets in this bicycle friendly city.
A punt on the river Cam in the summer will take you around The Backs, where you'll pass college chapels and duck under stone bridges.
From top label shopping centres to markets and bookshops to boutiques you'll be surprised what you could purchase here.
Cambridge has inspired the split of the atom and the discovery of DNA among many great achievements. Come and join the inspiration!
Passes covering Cambridge: BritRail Pass, BritRail England Pass and BritRail London Plus Pass
Buy BritRail With Confidence