Ceredigion
---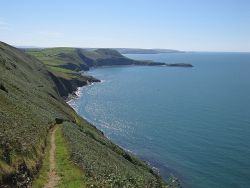 ---
Award-winning beaches and iconic harbours make the Ceredigion coast a beautiful place to visit.
This region inspired Dylan Thomas to write some of his finest poetry. Visit Aberaeron a stylish fishing village. Its large harbour is surrounded by brightly painted Georgian houses built in the early 19th century. Nearby is Llanerchaeron an 18th century Welsh gentry estate that has survived virtually unaltered for years.
The 60 mile Ceredigion Coast Path follows the coastline of Cardigan Bay, offering walkers everything from short walks to more challenging adventurous hikes along remote rugged shorelines. Here you'll find the tiny hamlet of Mwnt. Visit the 15th century whitewashed church, then navigate the steps to the sheltered sandy cove below - secluded bliss.
Wildlife
The cliff top is an excellent spot to chill out and watch seals, porpoises and bottle-nosed dolphins playing among the waves. Cardigan Bay was recently named as the best place to spot bottlenose dolphins in the world.
Passes covering Ceredigion: BritRail Pass
Buy BritRail With Confidence