Cornwall
---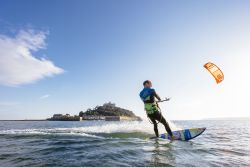 ---
Meat-filled pasties, Yarg cheese, clotted cream and fine ales are all delicacies of Cornwall.
You'll work up an appetite walking across granite moors, along the coastal path or even riding the surf at many of Cornwall's famous surfing beaches.
Being the southernmost county of the British Isles, Cornwall has a mild climate where sandy beaches meet flower-strewn clifftops. The coast surrounds 80% of this scenic county and the South West Path can be walked around the whole coastline from Plymouth to Padstow via Land's End.
Little fishing villages give this place its character, tucked away in their own tiny harbours providing a haven for seals. Pirates may once have sailed from these bays and traders of yesteryear certainly did. A stroll around these bays and onwards into the country or along the beach is invigorating.
Many world famous chefs have set up restaurants here, so what better way to wind down your day then with a fine meal overlooking wonderful scenery … and maybe a pint of the local Cornish ale too!
Passes covering the County of Cornwall: BritRail Pass, BritRail England Pass and BritRail South West Pass
Buy BritRail With Confidence