Dartmoor National Park
---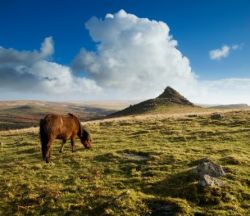 ---
Right at the heart of Devon is this beautiful National Park with tall grantie hills (tors) and fast flowing rivers running through lush green valleys.
These friendly hills keep rolling, with 953 square kilometres available to explore. To get to know the Moors well takes time and research, however, there are tours to suit all that explore this wonderful National Park. Take a guided tour by minibus, bicycle, horse or of course on foot.
Dartmoor is home to its own type of horse breed, the Dartmoor pony. Kept semi-feral on the Moors these ponies are a hardy breed and in the past were used by the tin miners and quarry workers of the South West. All roads running through the Dartmoor National Park are set at a 40 MPH speed limit to protect cattle, sheep and ponies who freely roam around and can easily stray onto the roads. Keep your eyes peeled, you may see one!
With the cities of Plymouth and Exeter not far outside the ends of the park, these will provide an excellent base for taking the bus into the Dartmoor National Park to explore. There is not an extensive coverage by public transport but the bus services will get you well into the Moors to see the best during your stay.
After a long day on the Moor, why not unwind by the river Dart and treat yourself to dinner. Dartmoor has fresh produce, from it's fish filled rivers to its vegetables grown in the rich soil. Fine dining runs through the veins here with top cookery schools and great restaurants.
There is a lot to taste and see in Dartmoor National Park
Buy BritRail With Confidence