The County of Essex
---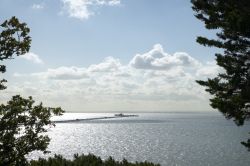 ---
Ancient remains, a world class zoo and the longest pleasure pier in the world all make up the hidden wonders of Essex.
Colchester is the oldest recorded town in Britain. It was made capital city of Britain under the Roman occupation and superb remains of a castle are available to visit at the Colchester Castle Museum.
Colchester also hosts one of the top 20 zoos in the world, with 60 acres of land exhibiting hundreds of different species offering a memorable family day out.
Essex is one of the driest places in Britain, so on a sunny day why not head to the coast, with traditional Victorian British seaside beach resorts such as Southend-on-Sea and Clacton-on Sea.
Southend-on-Sea has the longest pleasure pier in the world stretching out 1.34 miles from the shore. It is possible to walk or take the pier train to the end of the pier to get great views of the river Thames.
Undulating countryside, rolling wheat fields and ancient woodlands cover three quarters of the county and these countryside scenes have given inspiration to such artists as John Constable, who painted many sites in Essex. It is possible to visit the scene where he painted his famous picture "the Hay Wain" at Flatford Mill on the Essex and Suffolk border.
The Thames Estuary provides some wonderful birdwatching opportunities, whilst on the beaches made of sand and shells you can try your hand at watersports or just watch whilst eating some locally caught fresh shellfish.
If shopping is your thing then Lakeside shopping centre is the place to be, close to London it has all brands under one roof and there are also some wonderful antiques towns worth visiting.
Essex has much to see and can easily be reached in day trips from London.
Passes covering the County of Essex: BritRail Pass, BritRail England Pass and BritRail London Plus Pass
Buy BritRail With Confidence