Isle of Wight
---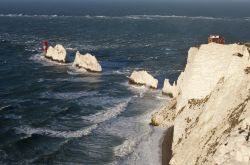 ---
Fantastic open fields, beautiful beaches, royal residencies and living history, the Isle of Wight is truly a wonderful place to visit.
A sense of nostalgia is felt even when you arrive with access being by ferry or hovercraft and the Island's railway line is run by old London Underground trains from 1938.
History continues deep in the Island's veins, where you can fossil hunt on the Jurassic coastline or view Roman villas from their occupation of Vectis (Roman name for the Island.)
Queen Victoria raised her family on the Isle of Wight at "Osborne House" a must see attraction for all.
The beaches here are award winning, great for all the family and set among rugged cliffs and hidden coves. Possibly the best known landmarks on the Island are the Needles rocks and lighthouse, with their different colour sands, a popular destination for many.
Hire a bike and ride the many internal cycle tracks of the island through dense country and open fields, view the wildlife and maybe stop at a country pub for lunch.
With a real holiday feel to the Island and so much to do, you'll be coming back time and time again to experience the island life.
Passes that cover the Isle of Wight: BritRail Pass, BritRail England Pass, BritRail London Plus Pass and BritRail South West Pass
Buy BritRail With Confidence