The County of Kent
---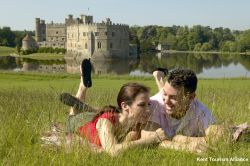 ---
Classic castles, green fields and the white cliffs of Dover paint a picture of Kent.
You can tell Kent was once the frontline of Britain by it's many castles. Visit Hever Castle, Leeds Castle and Dover Castle for a fascinating look back into history of the area.
There is also a distinct maritime heritage here, which can be seen when visiting the Historic Dockyard in Chatham. Around the coast from Chatham you will find some beautiful beaches such as Westgate and Margate. Further around the coast the infamous white cliffs of Dover can be seen on a clear day by all sailing on the English Channel or flying into London as a welcoming landmark to Britain.
Charles Dickens once commented on a train journey through Kent "the hop gardens turn gracefully towards me presenting regular avenues of hops in rapid flight, then whirl away." An essential ingredient in making real ale, there is a long history of growing hops in Kent. Many ales come from here with breweries and vineyards now also open to visit and taste!
Charles Dickens himself is well known in Kent, having lived here and set many of his books in these characteristic towns. It is possible to visit the Dickens House Museum in Broadstairs and have guided walks and of course attend the annual Dickens festival in Rochester.
If shopping is your thing then Bluewater shopping centre is the place to be, close to London it has all brands under one roof. There is also the Designer Centre in Ashford, a factory outlet shopping centre.
Known as England's Garden, this green county has much to see and do.
Passes covering the County of Kent: BritRail Pass, BritRail England Pass and BritRail London Plus Pass
Buy BritRail With Confidence