London
---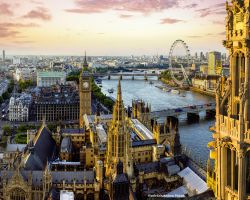 ---
World renown monuments, fascinating museums, high quality shopping and areas of greenbelt land. See across it all from the London Eye Ferris wheel.
Explore the suburbs and find some hidden gems, like the Camden and Borough markets, Olympic Park or go deer spotting in Richmond Park.
Sightseeing Tours
Experience one of the many and varied sightseeing tours around London's streets or down the River Thames in cruise boats, speed boats and amphibious vehilcles. There are many walking tours taking in various special interests and of course cycle tours... if you haven't already taken a public hire bike!
History: Natural, Real and Fictitious
Experience the history of nature at the Natural History Museum. Delve into wildlife at the London Zoo, London Aquarium and Kew Gardens.
The Museum of London showcases London's past, while the British Museum depitcs much of Britain's history and of course you can even dabble in a little fictitious history at Sherlock Holmes' house in Baker Street.
View the many famous art galleries London has to offer, such as the National Portrait Gallery, Tate and Tate Modern
Nighlife
Of course, no trip is complete without sampling the atmosphere of London by night, with many dining opportunities and West End theatre shows to see!
Easily accessible from all over Britain and from Europe, London is a must visit City.
Passes covering London: BritRail Pass, BritRail England Pass, BritRail London Plus Pass and BritRail South West Pass
Buy BritRail With Confidence