The North York Moors
---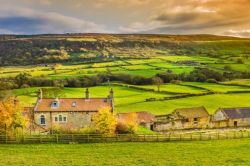 ---
The Moors offer a peaceful and remote countryside landscape. Country villages set in green valleys surrounded by mountains and heather covered hill tops rolling gently out to the sea.
Take the train down the beautiful Esk Valley railway line towards Whitby travelling past some of the most picturesque villages in Britain en-route. Why not stop for lunch in one of these villages and enjoy the relaxing scenery around you.
At the end of the Esk Valley railway, which runs through the Moors, is Whitby. Here a young James Cook began his apprenticeship as a seaman and went on to discover and chart the new world. You can visit the Captain Cook memorial museum in Whitby and see some of Cook's original letters, paintings, maps and strange objects brought back from his discoveries.
An historical fishing village dating back to 657AD, Whitby was once home to Royal Navy ships sailing out round the world under the command of Captain Cook. When the railway arrived visitors increased and the seaside resort we know today was formed. Well worth a visit to see the old fishermans cottages and museums, as well as tasting arguably the best fish and chips in Britain.
Back in the Moors a there is a real passion for walking, with short walks and guided walks for families as well as longer ones for experienced hikers. There is even timed walking challenges and a walking festival.
From walking to cycling and birdwatching to beaches there is more to do than meets the eye in the North York Moors.
Buy BritRail With Confidence