Norwich
---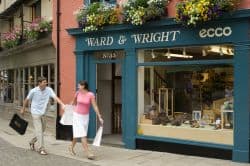 ---
City…
Norwich has a large collection of heritage landmarks which blend beautifully with the modern city architecture.
There is a great atmosphere in this city, which is compact enough to make you feel at home in days but with enough sights and culture to keep you entertained for weeks.
Norwich is a city set far from any other British cities which gives it a rich character all of its own. With an amazing mix of past and present, of openness and offbeat charm.
Norfolk Broads
Out of town there are the magical waterways and the Norfolk Broads, which play host to some sensational wildlife spotting opportunities. The pace of life out here is slow with just you, the wildlife and majestic big open skies with ample fresh country air.
Whether it's going to a zoo, hiring a boat, visiting a castle or one of the many historic buildings, Norwich has something for everyone.
Passes covering Norwich: BritRail Pass and BritRail England Pass
Buy BritRail With Confidence