Oxford
---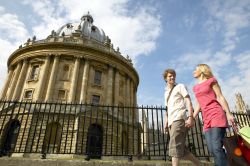 ---
Known as the city of dreaming spires this charming British city boasts historic buildings, many with domes and gargoyles, dating back to the Anglo-Saxon times.
Oxford is well known for its University, the oldest in the English speaking world, with Christ Church college being the most famous.
Shopping
There are many shops in Oxford and some antiques places too in this antique city. If you have a passion for fashion then you can indulge in the Westgate Shopping centre in Oxford city or at the tremendously popular Bicester Village just 35 minutes away.
Nightlife
At night why not squeeze into one of the side street city pubs and enjoy a lively drink with the local students, or master the arts at fringe theatres.
Tours
If you prefer something more serene you could always head to the river Isis and take a river cruise or even try punting.
With tour buses and guided walks, you'll have a great opportunity to learn the history of Oxford first hand.
Passes covering Oxford: BritRail Pass, BritRail England Pass, BritRail London Plus Pass and BritRail South West Pass
Buy BritRail With Confidence