Shrewsbury
---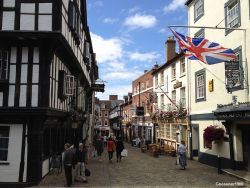 ---
Unique
Founded by the Saxons and developed by the Tudors, Shrewsbury is a unique city which you can tell as soon as you step out of the train station (which has the largest mechanical signal box in the world)
Shrewsbury is looped by the river Severn and in the city centre has medieval streets criss-crossing through it lined with wonky buildings containing original shops.
Charles Darwin was born in the town and went to Shrewsbury School. Take one of the guided walks to see his statue and learn more.
Shrewsbury Abbey was founded in 1083 being the centre of Norman and Medieval power in the region. It was a centre for daily prayer, study and work for a community of monks. It's still a place of worship today and well worth a visit.
Shrewsbury Museum
The Shrewsbury Museum and Art Gallery is set in the Music Hall which is part of a collection of buildings dating back 750 years. The museum covers the history of the town and its county and also hosts a cafe and the visitor information centre.
Buy BritRail With Confidence