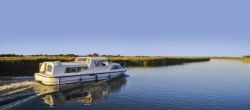 ---
These scenic waterways are a unique and diverse environment which support some of the most beautiful wetlands in Britain.
Originally these rivers were man-made between the 12th and 14th century for peat digging, they eventually flooded and created a tranquil haven for wildlife. Get up close to nature on a narrow boat river tour of the Broads. You can even hire a narrow boat yourself and nagivigate the smooth calm waterways whilst watch for rare birds.
This is the only National Park with a major city in it's boundary. The city of Norwich is at western most end, meaning that a city and a National Park can be seen in the same visit.
From nature reserves to heritage buildings and cycling to angling there is so much to do in the Broads your time will be well spent here.
Passes covering The Broads: BritRail Pass and BritRail England Pass
Buy BritRail With Confidence