Regional Trains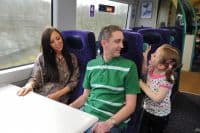 ---
Services On Board: Comfortable seating in First Class and Standard Class (pictured) Toilets. WiFi*. Buffet trolley catering**. Reserved Seating**
*where available WiFi will be free to First Class customers and fees may be applicable for Standard Class customers.
** on selected services only
Reservations:
You can board a Regional train with your BritRail Pass, however, it is recommended that you make a reservation with your travel agent/website at the time of booking or at the station before you board, as these train can get very busy.
Disabled Access: Disabled passengers can ask station staff for assistance or book assistance online on our "Passengers Needing Assistance" page.
Luggage: Most Regional trains have luggage racks. Customers are able to carry three pieces of luggage free of charge (2 large items and 1 small briefcase). Excess luggage and bulky items may be carried subject to available space and charge.
Regional Routes:

Northern Rail
Connecting towns in the North of England such as: > Newcastle > York > Manchester > Liverpool > Chester

First Trans Pennine Express
Connecting towns in the North East such as: > Newcastle > Middlesborough > York > Hull to towns the North West of England such as > Liverpool > Blackpool > Manchester > Windermere > Glasgow > Edinburgh

Cross Country
Connecting the length of the country from towns in the South West of England to towns in Scotland via the Midlands

ScotRail
Covering all Scottish stations, ScotRail is the train operating company for Scotland

Arriva Trains Wales
Covering all Welsh stations, Arriva Trains Wales is the operating company for Wales

Chiltern Railways
London to the West Midlands via the scenic Chiltern Hills and towns such as: > Oxford > Warwick > Stratford Upon Avon > Birmingham

London Midland
London to the Midlands via towns such as: > Birmingham > Shrewsbury > Crewe

South West Trains
London to the South via towns such as: > Portsmouth > Southampton > Isle of Wight > Exeter
Buy BritRail With Confidence