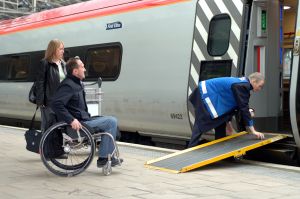 ---
Passengers with Disability
Rail services are now far more accessible than they were in the past and many disabled people are able to use the rail network without assistance.

We will always do our best to help disabled passengers that need assistance, but if you need help when travelling by rail, it is best to book assistance in advance so that we can ensure that any help you may need is provided.

In particular, we would recommend that you book assistance if you:
• Have a mobility or other disability that means you find getting on and off trains difficult;
• Are a wheelchair user (on most services you will need to use a boarding ramp and, on some services reserve a wheelchair space on the train service you wish to use);
• Are a mobility scooter user (there are restrictions on different train operators which need to be checked, a boarding ramp will be required and possibly a reservation for the space onboard).
• Have a sight impairment and need guiding around a station or help boarding and alighting from your train;
• Have difficulty walking long distances – at some stations we can provide a station wheelchair or, at some larger stations, access to an electric buggy.

We recommend that you book help 24 hours before you travel. This enables us to: give you as much information as possible before your travel; make alternative arrangements for you if the station is not step free or not staffed at the time you wish to travel; and ensure that there are enough staff for all the assistance requests at a station. Overall, this allows us to provide you with the best possible assistance on the day.
To request travel assistance please use the following link:

Buy BritRail With Confidence