Famous British Writers & Artists
---
Inspired by British Writers and Aritsts?
Visit dedicated museums, birth houses and of course, the sights that inspired them...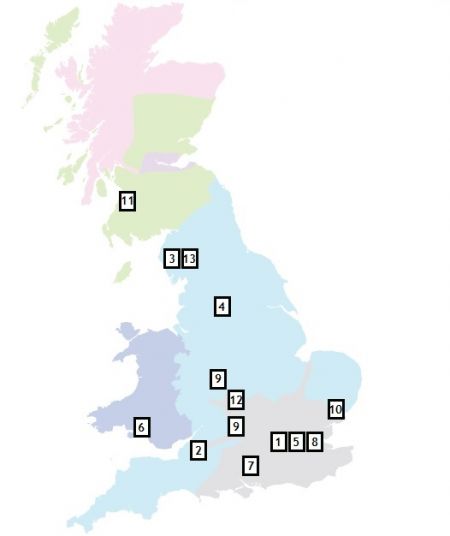 Details of these locations are below. For full BritRail Map click here.
---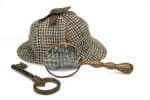 Author of the famous Sherlock Holmes detective fiction stories.
You can visit the Sherlock Holmes Museum based at Mr Holmes' residence in 221b Baker Street, London
Nearest station
: This location is within London
---

Extraordinary graffiti artist and political activist, Banksy is renown for his stirring street art scenes in public places.
You can view many of his street art works in Bristol
Nearest station
: Bristol Temple Meads
---

3.Beatrix Potter -
Author of many imaginative childrens books such as The Tale of Peter Rabbit and The Tale of Jemima Puddle-Duck.
You can visit the house in which she once lived at Hill Top Farm in the Lake District, which is 4.5 miles away from Windermere.
Nearest station: Windermere - plus approx. 1hour scenic journey across Lake Windermere by bus (N0. 599), boat (Windermere ferry) and bus (No. 525) to location
---

4. Bronte Sisters -
Charlotte, Emily and Anne Bronte all wrote novels and poetry from the inspirational Yorkshire countryside that surrounded them.
You can visit the Bronte Parsonage Museum in Haworth to find out more about the sisters.
Nearest station: Keighley - plus approx. 15 minute bus ride (Nos. 500/664/665 Bronte Bus) to location
---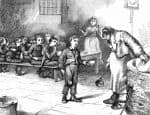 5. Charles Dickens -
Author of some of the world's most known characters in his novels, such as Oliver Twist, David Copperfield and Ebenezer Scrooge.
The Charles Dickens' Museum is located in central London. There are also Dickens festivals throughout the year in the county of Kent.
Nearest station: This location is within London
---
Welsh Poet, writer and broadcaster.
Famous for his poems such as "Do not go gentle into that good night" and writings such as "Under Milkwood"
You can visit his birthplace restored at 5 Cwmdonkin Drive.
Nearest station: Swansea - plus approx 15 minute bus ride (Cwmdonkin Cirucular) to location [please request driver to stop at Dylan Thomas Birthplace]
---

7. Jane Austen -
Author of some of Britain's best loved novels, such as Sense and Sensibility, Pride and Prejudice and Mansfield Park.
Jane Austen lived in the south of England most of her life and set some of her novels around here.
The Jane Austen House Museum in Hampshire is available to visit.
Nearest station: Alton - plus approx. 15 minute bus ride (No. 64) to location
Author of the famous Harry Potter novels.
You can visit the sets of the Harry Potter movies at Warner Brothers Studios just outside of London.
Nearest station: Watford Junction - (plus shuttle bus to studios)
When you are in London, you can have your photo taken like Harry Potter at platform 9 3/4 in Kings Cross Station.
Nearest station: London Kings Cross
---

Author of the famous Lord of the rings trilogy, Tolkein, came to England (from South Africa) as a child and grew up in the rural country outside Birmingham.
He then moved to Oxford to study and later write these best known novels of his.
You can visit Sarehole Mill opposite where he grew up as a child, which many think inspired the Shire and Hobbiton. Nearest station: Hall Green
You can also walk past many places of interest, such as Addison Walk, the Eagle and Child (his local pub) as well as his house and grave in Oxford.
Nearest station
: Oxford
---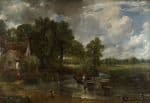 10. John Constable -
Landscape painter from the English Romantic period, John constable painted landscapes from around his native area in the countryside of Suffolk and Essex.
Perhaps best known for his painting "The Hay-Wain" this actual scene where he painted it can still be visited at Flatford Mill today.
Nearest station: Manningtree - plus short taxi ride or 40 minute walk to location
---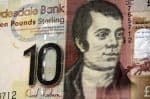 11. Robert Burns -
A well celebrated poet of Scotland, who provided us with such lines as..."The best-laid schemes o' mice an' men,
Gang aft agley" which John Steinbeck later used as a title in his notorious book "Of mice and men"
Burns night is held in Scotland every January on the poets birthday. A supper is had which usuallly involves eating haggis and drinking whisky in celebration.
The Robert Burns Birthplace Museum can be visited in Alloway.
Nearest station: Ayr - plus approx. 10 minute bus ride (No. 8) to location
Poet and Playwright, William Shakespeare is widely regarded as the greatest English Language writer.
Born in Stratford-Upon-Avon in 1564, there is much in this town that still stands since then. You can visit Shakespeare's birthplace, experience the Tudor farm house where his mother grew up and Anne Hathaway's (his wife's) family home amongst many other places.
Nearest station: Stratford-Upon-Avon
---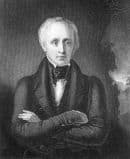 13. William Wordsworth -
English Romantic Poet, who with Samuel Taylor Coleridge helped to launch the Romantic Age.
Wordsworth resided in the Lake District, where the beautiful scenery helped inspire such poems as, "I wandered lonely as a cloud."
His house Dove Cottage still stands as a memorial to him and his literary works near Grasmere about 8 miles from Windermere. Visitors are welcome.
Nearest station
: Windermere
- plus approx. 30 minute bus ride (No. 555) to loaction
---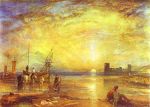 14. William Turner
One of England's most treasured landscape painters, William Turner sketched and painted scenes from all over Britain.
His inspired works of art capture moments in time and the nature of Britain. Fellow British artist John Ruskin described him as an artist who could most "stirringly and truthfully measure the moods of Nature."
The works of William Turner are based on multiple places around the country, from Whitby and Scarborough to Isle of Wight.
Nearest stations: Many locations of Turner's paintings can be reached by rail
---
Buy BritRail With Confidence