Introducing M-Pass
---
BritRail M-Pass is the easier, greener and more convenient way to explore Britain!
---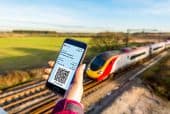 Don't like queuing at ticket offices? Neither do we! So here's some good news. Purchase your next BritRail Pass as an M-Pass and once you've downloaded your ticket you're good to travel... no ticket office validation required.
---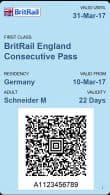 What does M-Pass mean? M-Pass means 'Mobile Pass' and is your complete Pass ready for travelling on your mobile phone.
Which Passes are available as an M-Pass?
All BritRail Passes are set to be released as an M-Pass by Spring 2020, for both Consecutive and Flexi durations.
What advantages does it bring?
Save Time
as once your M-Pass is downloaded to your mobile phone, there is no need to queue up at a ticket office any more to get your Pass stamped.
Save Money
as postage costs are no longer applicable when purchasing an M-Pass
Saves Hassle
when travelling with the M-Pass as its on your mobile phone and won't get lost. Downloadable as a PDF, you can store it conveniently on a variety of electronic devices such as mobile phone, iPhone, tablet, iPad, etc...
Saves the Planet
the M-Pass is completely paperless. Travel Britain saving paper and of course Co2 emissions on your journey with rail being ten times more efficient than air travel.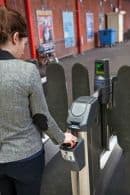 How does it work?
Download:
Once purchased, you will receive a link to download your M-Pass to your mobile phone from our distributor's central system. You can do this nearer your departure date in case your first date of travel changes.
Travel:
Once downloaded, you are ready to travel! Simply present your M-Pass to any ticket barrier with a barcode reader on it (as seen in picture) or to any member of staff who asks to see it at the side gate or on the train.
What if there is no barcode ticket reader?
Not every station has barcode readers installed on their ticket barriers. If you come to a station where there is no barcode reader on the ticket barrier, this is fine. Simply go to the side gate and the member of staff will either scan your M-Pass or visually inspect it and let you through.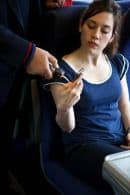 What if the train manager doesn't have a barcode ticket reader?
Barcode ticket readers are currently being rolled out across the network. When train managers do have a barcode ticket reader, simply present your BritRail M-Pass for them to scan (as seen in picture.) If they do not have a barcode ticket reader, still show them your phone as the M-Pass has been designed to be visually inspected by train managers allowing you to travel seamlessly.
Will you stop paper ticket BritRail Passes?
Both BritRail M-Passes and BritRail Paper Passes will be in circulation for customers to purchase. It is likely once most people have migrated to an M-Pass as first option that Paper Passes will be faded out.
Our BritRail specialist ACP Rail are the first to offer the new BritRail M-Pass. You can purchase your M-Pass at their online shop by clicking the button here:
BritRail England M-Pass Infomercial:
Buy BritRail With Confidence