Inverness and Loch Ness
---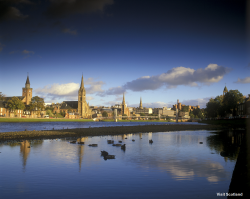 ---
Known as the 'capital' of the Highlands, Inverness is a fast-growing city with great restaurants and a wealth of activities on its doorstep, from walking and cycling to golfing at renowned courses such as Castle Stuart and Royal Dornoch.
Attractions
Discover Highland culture at Inverness Museum & Art Gallery or enjoy a pleasant walk along the River Ness, perhaps stopping for a cup of tea at Eden Court Theatre. The nearby Inverness Botanic Gardens are an oasis of colour and calm, while Bught Park offers a great play area and a charming miniature railway for children.
Castles
Join a tour to visit some of the Highlands' most interesting historical sites. Culloden Battlefield, where the Jacobite rising was brutally crushed in 1746, is just a short drive away, and nearby Fort George and the resplendent grounds of Cawdor Castle are both well worth a visit.
Nessie
And of course, no trip to Inverness is complete without a visit to the Highlands' most famous resident, the Loch Ness Monster. Watch out for 'Nessie' as you roam along the shores of Loch Ness, or visit the Loch Ness Centre & Exhibition in Drumnadrochit to uncover the legend of this mythical beast.
Passes covering Inverness and Loch Ness: BritRail Pass, BritRail Freedom of Scotland Pass and BritRail Scottish Highlands Pass
Buy BritRail With Confidence