Isle of Skye
---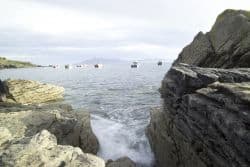 ---
Beautiful Journey
Widely renowned as one of the UK's most beautiful train journeys, the West Highland Line connects Glasgow with Scotland's spectacular west coast. Enjoy views of sandy beaches and untouched mountain landscapes before you arrive at Mallaig, just a half-hour ferry trip away from the Isle of Skye.
Famed for its breathtaking scenery, Skye is an ideal destination for photographers, climbers and walkers of all abilities. Take a hike along the Trotternish Ridge, 20 miles of extraordinary rock formations, or wander over the hills of the Faerie Glen near Uig.
History
In addition to wonderful landscapes, Skye can lay claim to a rich and fascinating history. Pay a trip to Dunvegan Castle to see the Fairy Flag, a sacred banner said to have miraculous powers, or get an insight into life in centuries past at the Skye Museum of Island Life.
Fine Dining
Those looking for a little luxury are sure to find it on Skye, which is home to two Michelin star restaurants with 5-star accommodation – enjoy an unforgettable dining experience at The Three Chimneys, or sample a sumptuous tasting menu at Kinloch Lodge Hotel.
Follow an unforgettable itinerary around Scotland's Islands.
Passes covering Isle of Skye: BritRail Freedom of Scotland Pass and BritRail Scottish Highlands Pass
Buy BritRail With Confidence