York
---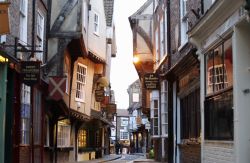 ---
York is a city of Roman walls with a Viking heritage and history down every cobbled street.
Walk through a Victorian themed road at the Castle Museum or discover the sights, sounds and smells of an authentically recreated Viking city at the Jorvic Viking Centre.
The giant York Minster cathedral is also a must see and is visible from miles around.
If you're interested in transport, come visit the National Railway Museum and see how Britain pioneered train travel. You can also take a city sightseeing tour by boat or by bus and top up your knowledge of York from the commentaries on board.
Why not head for a treat at York's Chocolate Story where the origins and ingredients for a sustainable future of chocolate are all explained.
Afterwards, walkers and cyclists may wish to take to the rolling countryside of the Vale of York and North Yorkshire Moors further out of town.
Passes covering York: BritRail Pass and BritRail England Pass
Buy BritRail With Confidence