Enjoy 1st Class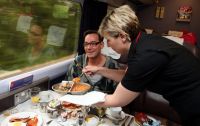 ---
Fancy a bit of extra comfort on your journey? ...then you may prefer a First Class pass!
Space and Comfort:
The seats in First Class have more space, extra leg room and are generally wider than Standard Class seats. The carriages are quieter, calmer and generally more comfortable than Standard Class. There are less seats per carriage in First Class and therefore compared to Standard Class there is generally more luggage space.
Catering:
Dependant on your train operating company, if you are on a long distance InterCity journey there will generally be a member of train staff serve you tea and coffee during travel. Some train companies also offer complimentary at seat snacks as well.
On a selected few departures to the South West, the Great Western Railway operate a Pullman Service of fine dining (as pictured above.) This must be booked in advance and you can do so at the First Class lounge in London Paddington station.
First Class Lounge Access:
A First Class BritRail Pass gives you access to all First Class facilities on the trains, however, it is not valid to be used in any First Class Lounges at stations.
Facilities:
First Class carriages are nearly all equipped with Power Sockets, WiFi (usually free of charge) and often offer complimentary newspapers.
Convenience:
If you are travelling in and out of London, the First class carriages are always at the London end of the train, for easy boarding or swift departure.
Picture inside: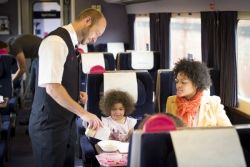 Inter-City - First Class Carriage
Buy BritRail With Confidence