Sleeper Trains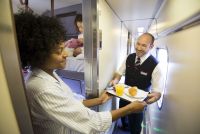 ---
Services On Board
:
Both Caledonian and Night Riviera sleeper services provide comfortable single and twin berths with an on board café. Both operators also offer seated accommodation.
Reservations: You may use your BritRail Pass to travel on these Night Sleeper routes, please first check that your pass covers the entire length of your intended journey. The cost of a berth or seat reservation, however, is not included, these reservations should be made in advance through your BritRail specialist.
Disabled Access: Night sleepers in Britain use older style carriages than the day trains, so disabled access is limited. The corridor between berths is narrow so passengers who can walk short distances are able to make the short walk to their berth, however, wheelchairs will not fit in the sleeping carriages unless collapsed. Most night sleepers also convey a seated carriage and this will have space for a wheelchair and companion to sit together. Disabled passengers can ask station staff for assistance or book assistance online on our "Passengers Needing Assistance" page.
Luggage: As with all sleeper trains, your luggage will need to be stored in your cabin. Usual rules apply and customers are able to carry three pieces of luggage free of charge (2 large items and 1 small briefcase). Excess luggage and bulky items may be carried subject to available space and charge.
Routes:
Caledonian Sleeper services link London Euston and North West England to over 40 locations in Scotland.
Night Riviera Sleeper services links London Paddington to Devon and Cornwall in South West England.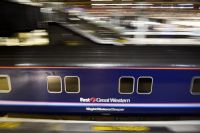 Buy BritRail With Confidence